Thank you for visiting 360 Health Cafe. Our mission is to provide healthy, local, organic food and drinks in the Marina Dunes Shopping Center. We want to be your local, casual place to hang out and visit, a place where you can enjoy high quality food and drinks. We provide boba teas, smoothies, juices, coffee, salads, panini, açaí bowls, puddings and other breakfast items.
Please drop by and say hi to our friendly staff. We welcome your next visit. Our address is below:
120 General Stillwell Dr. Suite 104
Marina, CA 93933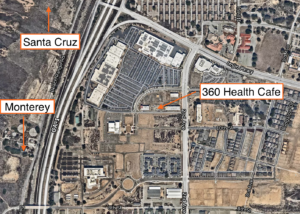 Direction: If you are coming from Santa Cruz, take Highway 1 south and get off at Imjin Blvd. If you are coming from Monterey, take Highway 1 north and get off at Imjin Blvd. Continue on Imjin Blvd and then turn right onto 2nd Avenue at your first light. After getting onto 2nd Avenue, make a right turn into Marina Dunes Shopping Center at the first light. 360 Health Cafe is on your left.
Free WiFi: 360 Health Cafe offers free wifi access to our customers. Please read the WiFi terms and conditions.
Please read our general terms and conditions on online order and privacy policy.